Automated Santa Call | Recorded Santa Claus Call
2020 CHRISTMAS EVE AUTOMATED SANTA CALL:
Prefer a Recorded Santa Phone Call for your family? Great for families with little ones whom might be shy and not wish to speak with Santa Claus in-person yet.
Santa Claus has a very special list of children he calls on Christmas Eve at 6p Eastern Standard Time. Santa Claus records a semi-custom message, then his Magical Messaging System calls your cellphone, home, or phone number supplied at 6PM EST Christmas Eve. Talk about a special "extra surprise" for your kids.
Request your Automated Santa Call below. Hurry call reservation deadline this year is December 21st 2020.
Add your family to his Christmas Eve Magical Call list, request his "semi-customized and pre-recorded" Magical Message. Click below, make payment of $14.95 and then simply fill out the family information form after payment. You will be added to his Magical Message call list placed on Christmas Eve.
Note: If your family has a ACTIVE soldier deployed in the US Military, we invite you to join Santa's FREE Military Automatted Call list here.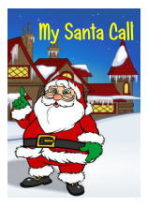 To add your family to Santa's Christmas Eve Call list, just remit payment of only US $14.95 below. After payment you will be sent to our family details form to share your desired Santa Call number for the Magical Calling System.
No worry we do NOT sell your phone number or information to any other service!
Make your family holiday more spectacular this year with Santa's Magical Christmas Eve call to your home. Order below at only $14.95, or order a popular Live Santa Call here.
…our kids are only 18-months and just over 3, so we loved the idea of a automated santa call at our home. soon we are going to do the live calls but can not wait for christmas eve. -sandy ramone, fla
…another reason for our automated call by a past family:
…our daughter has autism so the idea of talking to santa live is scary. the automated call was a great way to remind her that she is known by and very much loved by santa claus too. -carmin davis, ny
Order your Automated Magical Santa Call below from Santa Claus.
————————————————————————————————————-
SORRY – NO LONGER TAKING CHRISTMAS EVE AUTOMATTED CALLS THIS YEAR!
————————————————————————————————————-
NOTE: After your secure PayPal payment you are sent to complete Santa's Magical Call questionnaire form to share some basic details for Santa to use on your semi-custom automated message. This is information only Santa himself would know. Ready? Remit payment and order now. Deadline is December 21st.