SKYPE SANTA CALL – LIVE SKYPE AUDIO CALL
* SKYPE SANTA CALL – ON SKYPE RESERVATION PAGE!

NOTE: DID YOU MAKE PAYMENT? IF NOT DO SO HERE NOW. YOU WILL BE RETURNED TO THIS PAGE AFTER PAYMENT. IF YOU DID – SELECT A CALL DATE AND TIME BELOW.
This is Santa's very popular LIVE My Santa Skype Call. Make your children's holiday even more spectacular with a LIVE Santa Call to your home, or office from the north-pole.
ALL your children will receive a LIVE one-on-one portion of the talk with Santa by Skype Audio.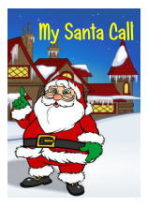 Your Live Skype Santa Call on Skype Includes…
LIVE Skype Call from Santa Claus & Friends to ALL your children.
Private Magical Web Page featuring your free recorded phone call.
Free MP3 to download, share, or re-listen over and over.
Special letter to your kids written within your family page from Santa Claus.
Social Media Buttons to share your Santa Call with friends and family.
NORAD tracking tool to track Santa Claus at Christmas
Rudolf the Red Nose Reindeer YouTube Movie and more.
————————————————————-
Listen to a Real Skype Santa Call Samples at Right!
————————————————————-
The Reservation Process is Simple…
Reserve your call DATE and call TIME from those still available.
Fill out the small form at the bottom with your personal details.
Hit Submit and watch for a Pending Confirmation emailed soon after.
You are then redirected to Santa's Questionnaire to supply details about your children.
Once done submit form, and watch email for Booking Confirmation with call info.
Ready to Reserve a Live My Santa Audio Skype Call via Skype? Use the form below and select your reservation date and time now, then make payment of $59.95 and complete Santa's Questionnaire.
NOTE: CALL TIMES ARE ALL EASTERN TIME!
PLEASE DO NOT RESERVE A TIME IF YOU ARE NOT READY TO PURCHASE NOW.  RESERVATIONS MUST INCLUDE A PAYMENT AND QUESTIONNAIRE AFTER BOOKING. RED DATES ARE FULLY BOOKED!
1) PICK AVAILABLE DATE. 2) PICK AVAILABLE CALL TIME. 3) PLACE ORDER. 4) AFTER BEING SENT TO PAYMENT PAGE REMIT PAYMENT. 5) COMPLETE SANTA'S SECRET QUESTIONNAIRE. 6) WATCH YOUR EMAIL
Have Questions? Please call us at 1-970-223-3659.
Merry Christmas and Happy New Year!